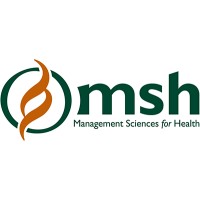 The Management Sciences for Health (MSH), a global health nonprofit organization, uses proven approaches developed over 40 years to help leaders, health managers, and communities in developing nations build stronger health systems for greater health impact. We work to save lives by closing the gap between knowledge and action in public health.
We are recruiting to fill the position of:
Job Title: NPHI Senior Country Coordinator
Reference ID: R1210
Location: Abuja
Employment Type: Full Time
Job Description
With support from the project's Principal Investigator, the Senior Country Coordinator will provide strategic leadership and bear responsibility for the achievement of objectives and stated project goals, the effective management of local team members and consultants, and for the timely and accurate fulfilment of reporting requirements specified in the project award for activities in country.
S/he will be the official representative for MSH's NPHI Capacity Building Program in the country and will maintain routine communication between all relevant parties, including with CDC and MSH's home office project leadership, as well as management and technical support staff.
The Country Coordinator will be responsible for providing technical assistance and coaching, as well as coordinating other members of the project's team to provide technical assistance to the Nigeria Ministry of Health and relevant National Institute for Public Health (NIPH), Nigeria  Public Health Emergency Operations Centers (PHEOCs), and other relevant stakeholders to strengthen technical and managerial capacities particularly those related to effective emergency management and to better identify and address priority challenges arising from the current response to COVID-19.
Support will likely include strengthening NIPH's institutional capacity to play its leadership role, clarifying to the incident command structure and improving its performance, and using the COVID-19 response as an entry point for taking steps toward eventual integration of emergency operations and national disease surveillance into NIPH's structure.
The Country Coordinator will supervise the Project Officer assigned to support the NPHI activity and ensure that activity reports are compiled and submitted to the Project Management Team in the MSH Home Office. The Country Coordinator will liaise closely with other MSH teams in country.
Required Minimum Education
Advanced Degree in Public Health, Health Management Sciences, or a related discipline.
Required Minimum Experience:
At least eight (8) years of related experience; including experience developing capacities of high level public sector institutions, fostering high performing technical assistance, building the capacity of teams, and delivering on expected project results, with flexibility to adapt to changing priorities and deadlines
Experience of the One Health and/or IDSR frameworks in relation to epidemic control and or FETP training will be beneficial.
Experience in developing leadership and management behaviors of teams and coaching senior leaders to improve performance is highly preferred.
Preferred:
Capacity development experience in the context of public health emergencies or disease outbreaks is highly desirable.
Experience with CDC is preferred. Record of productive collaboration with the Ministry of Health is beneficial.
Knowledge and Skills:
Designing and facilitating participatory assessments and group exercises
Co-designing strategies and plans
Designing and adapting capacity building strategies
Planning for sustainability
Strong interpersonal skills coupled with excellent communication skills: verbal, written, listening, presentation, and facilitation.
Fluency in oral and written English communication
Competencies:
Demonstrated ability to build and maintain relationships with a wide range of colleagues and stakeholders.
Demonstrated strategic agility, diplomacy, conflict management, team building, written and oral communication, and negotiation skills.
Application Closing Date
Not Specified.