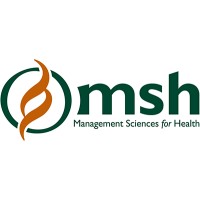 The Management Sciences for Health (MSH), a global health nonprofit organization, uses proven approaches developed over 40 years to help leaders, health managers, and communities in developing nations build stronger health systems for greater health impact. We work to save lives by closing the gap between knowledge and action in public health.
We are recruiting to fill the position of:
Job Title: M & E Database Consultant
Reference ID: R740
Locations: Katsina and Taraba
Employment Type: Part time
Overview
MSH is currently a sub recipient to Catholic Relief Services for the implementation of the Global Fund Malaria Grant (2021 to 2023) in Nigeria, which aims to implement and support malaria control activities in 11 states, including implementation of Seasonal Malaria Chemoprevention (SMC) in 2 states, Taraba and Katsina States.
As part of effort to ensure adequate and quality assured data for the SMC programming, MSH seeks the engage the services of 2 M&E database consultant to develop and administer the project databases and Management Information System (MIS). One M&E database consultant will be required in each state of Taraba and Katsina.
The consultant is expected to maintain database of SMC key activities including SMC personnel selection, training database, health facility assessment and micro planning data, periodic supervision data, End of Cycle Review Meetings, Data Quality Audit and Datasets of all Surveys. Experience with design of MIS is highly required as the project will integrate all databases into one system to allow for comparison and consolidation of reports.
The candidate is also expected to have excellent skills in the design of mobile data collection tools, data visualization, analysis and report writing. Therefore, experience with the use of Kobo collect/Survey CTO, Tableau/Power BI, SPSS/STATA and programmable softwares like MySQL is desirable.
The consultant will work with the State and LGA M&E teams as SMC field officers in ensuring SMC data is harnessed in databases, meet quality standards, analyzed, reported and used for programme improvement.
Responsibilities
The M&E Database consultant will support the senior technical manager, M&E to carry out the following services:
S/he shall support health facility assessment and micro planning meetings to ensure that data generated meet minimum required standard and that they are captured in appropriate databases
Participate in all activities aimed at reviewing and improving SMC data and report such as EoC review meetings, DQA, and validation meetings. He or she shall also participate in surveys and other operational researches undertaken to assess project impact
Work closely with colleagues in the states to support personnel selection and capturing of bio-data. S/he shall maintain databases of SMC personnel and update of the database in the event of attrition and replacement
S/he shall maintain databases of all trainings conducted, health facility assessment and micro planning data, periodic supervision data, End of Cycle Review Meetings, Data Quality Audit and Datasets of all Surveys.
S/he shall be responsible for updating SMC MIS, performance dashboards and PUDR
Support SMC implementing states in compilation of report, data analysis and writing of reports such as end of cycle report and donor narrative reports
S/he shall promote learning, feedback and data use among LGA and Facility Health Workers
Carry out other duties as may be assigned by the Senior Technical Manager, Monitoring and Evaluation.
Qualifications
B.Sc or HND in Mathematics, Computer Science, Statistics or Economics or related analytical courses is required. A master Degree is an added advantage
High analytical and decision making skills is desirable.
Previous experience designing MIS for a health facility or community-based intervention is desirable
Experience with the use of Kobo collect / Survey CTO, Tableau / Power BI, SPSS/STATA and programmable software like MySQL is a required
Excellent report writing, facilitation and communication skills.
Application Closing Date
Not Specified.
How to Apply
Interested and qualified candidates should:
Click here to apply online
Note: Please indicate your state of choice on your CV.